Extra Curricular
We have a wide variety of enrichment opportunities throughout the academic year, some of which are outlined below. Our wellbeing weeks that take place each term and our KS3 and KS4 careers week build on these. As part of our enrichment package, is our extra-curricular offer.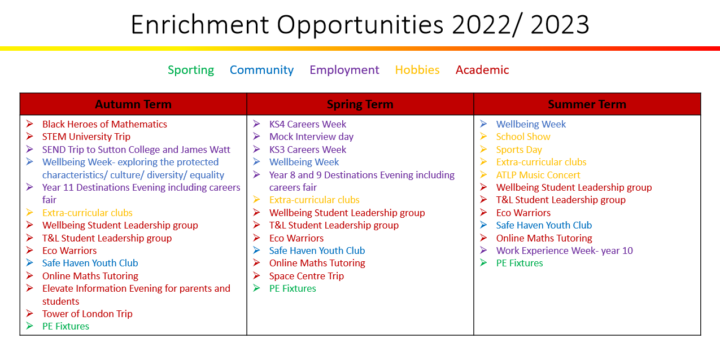 This year we have launched Children's University to all students. This provides students with the opportunity to:
Feel encouraged to participate in a growing number of clubs and opportunities available
Experience a range of new and engaging online experiences
Log their extra-curricular hours on their very own profile page
Log their participation in activities out of school such as Girl Guiding and sports clubs
Achieve recognition for their participation through certificates, badges and their attendance to our prestigious ATLP Graduation ceremony at the end of the year in accordance with the hours they've reached.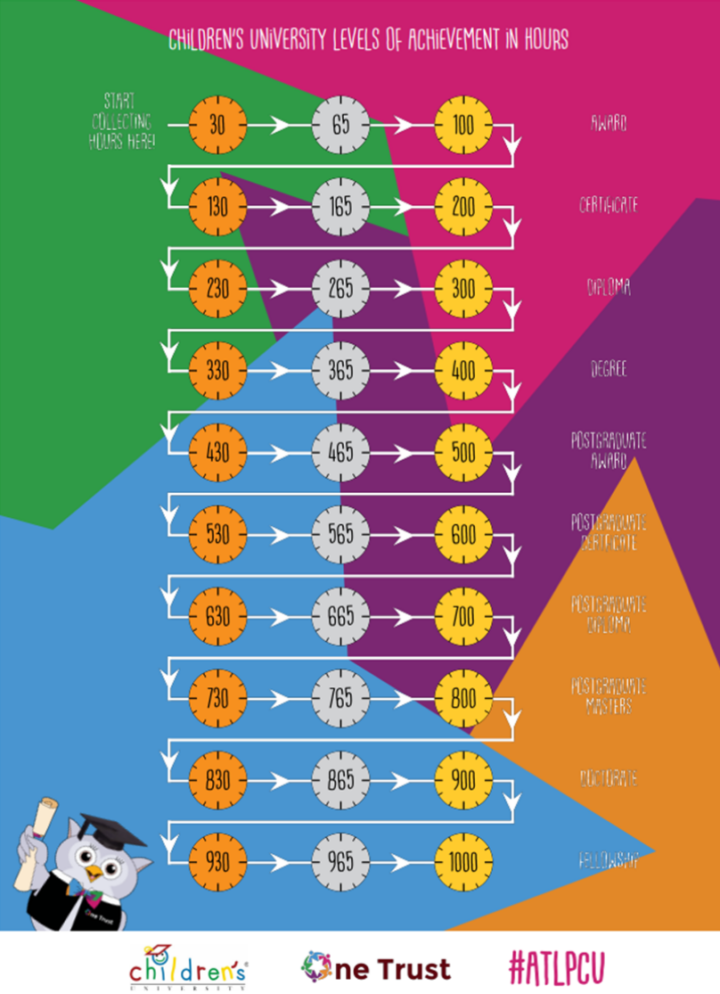 Please encourage your child to take part in at least one club every week. If there is a club they would love to participate in or a club they would like to run, please encourage them to speak to us or one of our student leaders.
MONDAY
Enrichment/ Cultural Capital
Academic Support and Development
Outside Agencies
LUNCH TIME
Art Club – KS4
Rm: Art 1
LKW

Ukulele Club – Year 11 (priority), Years 7 & 8
Week 1
Rm: Music 1
LKS
LUNCH TIME
Independent Music Study – Practice Rooms

Online Maths Tutoring
ALL DAY
Careers Advice and Guidance interviews

AFTER SCHOOL
Safe Haven Youth Club
TUESDAY
Enrichment/ Cultural Capital
Academic Support and Development
Outside Agencies
LUNCH TIME
Badminton – All years
Sports Hall

Art Club – KS4
Rm: Art 1
LKW

Spanish Club – KS4
Week 2
EM

Music Tech – Year 11
Rm: Music 1
LKS

AFTER SCHOOL
Football – Year 7 & 8 Boys AWP

Football – Girls in all years
Week 2
Sports Hall
AWP










AFTER SCHOOL
STEM Club- science

Green Power- science

Period 7 English Intervention
WEDNESDAY
Enrichment/ Cultural Capital
Academic Support and Development
Outside Agencies
LUNCH TIME
Football – Year 9 & 10
AWP

Basketball – KS3
Sports Hall

Art Club – KS4
Rm: Art 1
LKW

Ukulele Club – Year 11 (priority) & Year 10
Week 2
Rm: Music 1
LKS

Ballet group
Drama Studio

AFTER SCHOOL
Netball – All Years
Sports Hall

Art Club – KS3
Rm: Art1
LKW
AFTER SCHOOL
Period 7 Science Intervention
ALL DAY
Careers Advise and Guidance Interviews
THURSDAY
Enrichment/ Cultural Capital
Academic Support and Development
Outside Agencies
LUNCH TIME
Art Club – KS4
Rm: Art 1
LKW

Keyboard Club – Year 11 (priority) & Year 9
Rm: Music 1
LKS

AFTER SCHOOL
Cricket Club – All Years
Sports Hall
AFTER SCHOOL
Period 7 Maths Intervention
FRIDAY
Enrichment/ Cultural Capital
Academic Support and Development
Outside Agencies
LUNCH TIME
Basketball – All Years
Sports Hall

Drama Club – KS3
GBY

Art Club – KS4
Rm: Art 1
LUNCH TIME
Book Club
Friday week 1
TM1.5

AFTER SCHOOL
PE and Health & Social Care Catch-up club Week 1 T6